Zach Gildersleeve
About Me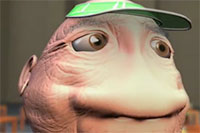 I currently live in Salt Lake City, Utah, by way of Bozeman, Montana, by way of Evergreen, Colorado - all places where the moutains are close and large. In Bozeman I studied Media and Theatre Arts at Montana State University, and started Aver Ingenuity, a media production company. After several years I decided to go back to school, and was fortunate enough to be accepted at the Masters level at the University of Utah's School of Computing, where I have now graduated with a MS in Computer Graphics.
Starting the summer of 2007 I left my job at Instructional Media Services where I created educational and departmental videos for the University of Utah, and have taken a job at the Go-Travel websites, where I do a mix of web development, geospatial encoding, and media production. This includes the occasional ground-up site such as this and this.
When I am not working I might be found running in Liberty Park with my dog, Wally, or cooking dinner with Ann. For more about what I'm up to, check out the updates at Miscellanea.
About this Site
My current resume, a complete filmography, curriculum vitae, and show reel can be found here. Dialogues contains select academic papers, essays, film reviews, and fiction, as well as travel journals and photography. If you are looking for photos and artwork, much can be found in the Media Gallery. University classwork, tutorials, and textures can be found here, which, like this entire site, is very much under construction.
Contact
Please reach me via email at zgildersleeve [at] gmail [dot] com